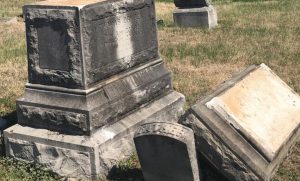 Who would vandalize a cemetery?  That's what Jasper County law enforcement wants to know after a cemetery south of Jasper was vandalized on Friday (3/17).  Jasper County Sheriff's Detective Tim Williams tells News Talk KZRG what happened at the Paradise Cemetery at I-49 and Baseline Boulevard.
"There's 15 headstones that were pushed over and damaged throughout the cemetery and we're looking for information on anyone who may have been involved in this."
News Talk KZRG asked Williams if there was a religious motivation to the vandalism, as has been the case at Jewish cemeteries around the country recently.  "I did not see anything that indicates that it was faith-based damage, just random……It's disgraceful, is what it is."
If you have information on this incident, call the Jasper County Sheriff's Tip Line at 417-358-8477 (TIPS).
(Photo courtesy Jasper County Sheriff's Office)