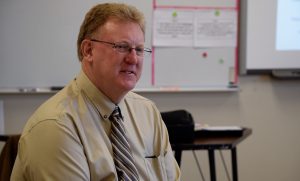 There will be a new school superintendent in Pittsburg next year.  Superintendent Destry Brown told the Pittsburg School Board Monday (11/13) he would step down at the end of the school year.  Brown tells News Talk KZRG why he's stepping aside.
"I've been in education for 34 years.  I've had the opportunity to do a lot of great things and be involved in a lot of great things..and it's just time for me to step aside."
Brown says he's most proud of developing the Southeast Kansas Career and Technical Education Center of Crawford County….and of adding more activities that students can take part in.  Brown has been Pittsburg's superintendent for nine years.  Brown says he won't be involved in the search for his successor.