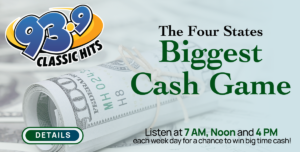 Are you ready to win some CASH? Turn on your radio and GET PAID!
Classic Hits 93.9 has cash, and we want to give it to YOU!
Listen weekdays to play the Four States' Biggest Cash Game!
Three times every weekday, at 7:20am, 12:20pm and 4:20pm, you'll get a chance to call (417) 578-93-90 and make your guess for the amount of money in our jackpot.
We'll let you know if you're too high or too low.
If you guess the exact dollar amount, you WIN it!
Listen for three bonus chances to guess every Thursday, that could happen ANY TIME.
Join the Loyal Listeners Club
and you'll get a heads up about when to listen for those Thursday bonus plays!
It's the Four States' Biggest Cash Game on Classic Hits 93.9!