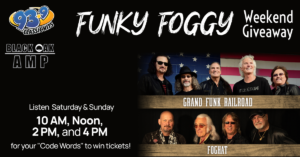 This weekend we're giving you a chance to win tickets to see
Grand Funk Railroad and Foghat
at Black Oak Mountain Amphitheater, on Table Rock Lake in Lampe, Missouri on July 22nd.
It's the Classic Hits 93.9 Funky Foggy Weekend Giveaway!
Listen Saturday and Sunday at 10am, noon and 4pm for your code words to win tickets!
When you hear a code word, head to 939classhits.com or just click here to enter!
We'll announce our winners on Monday morning.
Good luck!