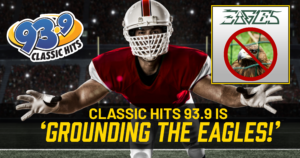 ӿ
Classic Hits 93.9 is "Grounding The Eagles" until after the Chiefs-Eagles NFL Championship Game on Super Bowl Sunday.
ӿ
We love the Chiefs and want to do our part to show support for our 'Mahomies' in their efforts to bring another championship to Kansas City.
ӿ
In a show of support for the AFC Champion Kansas City Chiefs, Classic Hits 93.9 will be banning all songs by the Eagles from its airwaves. Nor will we play any songs with "eagle" in the title.
ӿ
This will also give us a chance to play more of the "Greatest Hits of All Time" from some of your other favorite acts.
ӿ
We will resume normal programming on Monday, February 13.